Mystic Chorale, March 2nd & 3rd
Saturday, 02 March 2019 07:30pm - 09:00pm
Mystic GOSPEL
2019
A couple of our members are singing!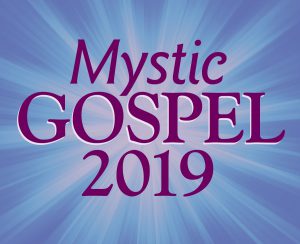 Led by Nick Page
The Mystic Chorale, one of Greater Boston's favorite community choruses, presents its annual Gospel concert. Led by award­-winning gospel director Jonathan Singleton, the 250­-voices­-strong chorale and 5-piece band will present two joyful and spirit-filled performances featuring eclectic music rooted in the African American gospel tradition.
This year's exciting program will include an eclectic mix of gospel sourced from all around the world,including the Soweto Gospel Choir's Woza Meli Wami, Irish composer Brian Houston's So That I Can Walk In Your Way, and American Gospel composer Hezekiah Walker's Better! The chorus will continue its celebration of Queen of Soul Aretha Franklin's enormous contribution to gospel music by singing the inspirational Never Gonna Break My Faith!
An inspiring, spirit-filled experience is sure to be had!
Read More
Reiki Sessions with Evelyn Williams Moore
Sunday, 03 March 2019 01:30pm - 02:30pm
Unity member, Evelyn Williams Moore is offering Reiki services for members on a first-come, first-served basis after Services the 1st Sunday of every month.
Moore has practiced Reiki since 1999 and in 2012 became a Reiki Master-Teacher. She is honored to be able to offer Reiki to the Unity in the City Community on the first Sunday of each month in the teachers lounge. A love offering is requested.
Reiki (Ray-Key), an ancient, gentle, hands-on healing art, helps you to reduce stress, feel better and heal better.
You can use Reiki to facilitate deep relaxation, relieve pain, and promote healing and personal growth. Reiki stimulates your body's innate healing resources, encouraging a return to wellness. Please feel free to read more about Reiki in the handouts located on the front table at Unity in the City
Read More